NORTHUMBERLAND'S FRIENDLIEST COACH COMPANY
OUR SERVICES

At Rothbury Motors we have one simple aim – to provide the very best in passenger transport at a realistic price. We are proud of our friendly and helpful reputation, making us 'Northumberland's Friendliest Coach Company'.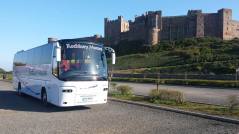 Our fleet is made up from various sizes and specifications of coaches, from a 14 Seater Mini-Bus up to a 70 Seater School Bus, with fully executive coaches in-between.
We are a family firm with its roots firmly established within Northumberland and pride ourselves on excellent service and commitment to our customers.
We can provide you with the perfect transport, for your trip away, whether it is a day-trip shopping, sightseeing or even a short break away.
If you have any queries' please don't hesitate to contact us.
We thrive on providing our customers with an excellent service.
CONTACT US